BJ OWEN'S AVENUE ROAD TRIP
THE EXTENDED VERSION
Is there a musical gene? Of course there are some very talented Gene's working in the music industry, but all puns aside, the role that music plays in making us human can't be understated. My earliest memories always seem to incorporate some musical elements: that Carpenter's song I heard on the radio when I was 5 years old and suffering from a high fever, those Bing Crosby and Harry Belafonte records my parents had that called out to me from other eras of time, that sudden electric jolt I felt the first time I heard the album Beatles At the Hollywood Bowl! My deep enjoyment and appreciation for music fueled a life-long desire to express myself musically with melodies always buzzing about in my head and lyrical observations on life waiting to be inked out on a scrap of paper.
My first band was St Michael's Choir School in Toronto. OK, maybe it wasn't exactly a band, but it was a group of guys who loved to sing on a daily basis. I was 8 years old and fascinated with musical structure and how harmonies played with melodies and created musical expression that seemed to bypass the intellect and were aimed straight at the emotional core. I took to this style of classical musical training like a nerdy duck to water, wearing a tie to school and getting the strap on a regular basis. Apparently, being a choir boy and being a smart-ass didn't always go well together. Our family moved from Toronto to Calgary in 1974 and I started being a nerd at regular schools.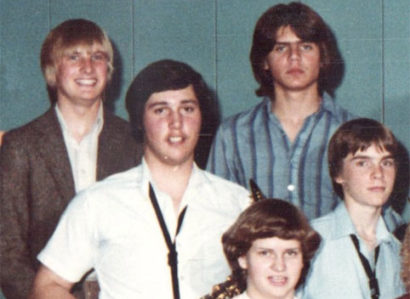 I had met my brother Dan when I was almost 1 year old. I didn't realize that he was also my musical spiritual brother until he also freaked out upon getting that first Beatles album.
Dan had received a guitar one Christmas and had promptly put it away somewhere in our basement until I discovered it while we were attending Junior High School. I taught myself how to tune the thing, Dan decided he could keep time while hitting things, so we decided to form a band.
We connected with some other musically-inclined buddies from school and started getting together in the evenings and weekends at each other's homes to act out the rock and roll dream. Among a cast of characters, Dan and I connected with a school mate named Phil O'Flaherty who was a budding musical genius and he connected us with the musical influences of Donovan and Simon & Garfunkel in addition to our Beatles inspiration and the 70's rock we were hearing on the radio. We spent hours trying to work out how to play these classic songs without the benefit of YouTube. This led to some interesting alternate lyrics and the eureka moments of figuring out how to play a new guitar chord.
I had been writing my own songs for several years at this point and Phil had also been flexing his song-writing muscles. Having the combined synergies of multiple musicians working out and collaborating on original material created an amazing dynamic and the motivation to kick our original song writing into a higher gear.